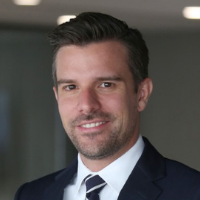 Head of Industrial & Fund Manager, Centuria Industrial REIT
Takes part in
14:50 - 15:10

Innovation round tables

In this session, we bring together delegates in a series of 5 facilitated round table discussions, with leading industry experts. Join a table that most interests you and discuss the latest technology and industry trends with likeminded individuals. A 20-minute facilitated discussion will run back-to-back from 2.50pm to 3.10pm. Coffee and networking will also start at 3.10pm for those who do not wish to participate in discussion groups.

Round Table 1: Warehouse Design, Construction & Fit-Out – Led by David Sanders, Director, FDC Building

Round Table 2: Warehouse Management – Led by Peter Stephan, Systems Engineering Lead, Cisco Meraki and Steven Krowitz, Inside Sales Manager – ANZ, Cisco Meraki

Round Table 3: Smart Industrial Buildings – Led by Paul Suhr, Federal Government & Public Sector Enterprise Specialist, Cisco Meraki and James Mckee, IoT & Edge Intelligence, Cisco Meraki

Round Table 4: Sustainability – Led by Simon Carter, Founding Chair, Sustainable Digitalisation Project

Round Table 5: Capital Markets Investor Insights – Led by Jesse Curtis, Head of Industrial & Fund Manager, Centuria Industrial REIT

14:10 - 14:50

Fund manager's panel - Capital Market and Industrial Fund Manager perspective

How are the capital markets reacting to the ongoing industrial boom?

How will land scarcity influence returns and the demand for the sector?

Where are cap rates, and how are they impacting acquisitions and sales?

How are trends like the move to Automation, Last-Mile Delivery locations and Multi-Level warehousing likely to impact the pricing for assets in the future?

How do Fund Managers identify and mitigate risk in the Industrial sector?

Panellists include:Moderated by:
If you'd like more of this type of content delivered straight to your inbox, Enter your information below to subscribe to our fortnightly newsletter.