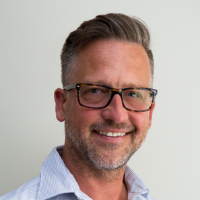 Workplace Strategist, Cisco
Having formally entered the real estate industry in the early 90s as a real estate Valuer, John's career journey intersected several associated real estate disciplines including agency, real estate finance and corporate real estate advocacy, prior to joining Cisco. Transitioning through the more traditional corporate real estate functions making up Cisco's global real estate portfolio over 15 years, it became evident that the convergence of traditional workplace strategy and workplace technology was becoming naturally intertwined such that John's focus pivoted towards architecting innovative technology enabled workplace strategies, focused on getting corporate real estate to work harder for users by securely maintaining, sustaining and scaling the user experience, all within Cisco's catalogue. Years of experimentation, learning and development has resulted in notable workplace project successes and helped with the reinvention of Cisco's workplace user experience while continually enhancing real estate efficiencies. Still very much focused on corporate real estate and workplace strategy, John is now a part of the Cisco Workplace Technology team where he continues his pioneering of technology enabled workplace strategies, working with Cisco customers to enable them with similar success.
Takes part in
14:20 - 15:00

Panel Discussion: Improving work culture, employee experience and performance through innovative office design and tech

Why the post-COVID office will have an even greater focus on collaboration
How can employers transform their spaces into FOMO-inducing, must-go destinations?
What role will smart technologies play in all of this?

Panellists include:Moderated by:
If you'd like more of this type of content delivered straight to your inbox, Enter your information below to subscribe to our fortnightly newsletter.