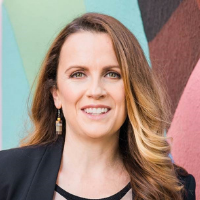 Principal, Director, Campus Intuition & Founder, Managing Director, Space Alive
We spend our days interacting with different spaces, from our homes, to the office, the park, or a cafe. People experience these spaces emotionally, mentally and physically. Dr Hall has sought to understand the different ways spaces impact people and the environment. She completed a PhD in sustainable, healthy cities and buildings and a post-doctorate from UNSW on evidence-based decision-making for design and construction. Following a STEM leadership program in Antarctica she made the leap to leave academia and has spent the last 3 years focused on developing methods to improve built environment design and planning. She now leads the development of the Campus Experience Index being used by universities to better understand student experience with campus environments. Dr Hall's work has been recognised with several innovation awards, including 40 Under 40, Curtin Innovation Award, Western Australian Innovator of the Year Finalist and AMP Change Maker in Australia. She is also a member of the Western Australian State Design Review Panel.
Takes part in
11:00 - 11:40

Panel Discussion: Creating buildings and asset portfolios that are Future-Ready

In this session we examine how the adoption and integration of technology within building systems can make them not only Smart, but Healthy and promote user wellbeing. From the implementation of smart lighting, HVAC, Wi-Fi networks and security throughout the buildings initial design and the development of its core infrastructure we can both innovate and build to last whatever the future brings. In the session we examine:

Designing for resilience as well as planning for climate change and other scenarios to make our buildings Future-Ready and sustainable
Understanding how Covid-19 has changed the landscape, design priorities and the spend focus of modern builds
Understanding how technology is shaping the integration of systems within existing building refurbs and what innovations are driving forward thinking towards new building construction?
Involving the facilities management team early in the design process to better align thinking.

How building operators can create synergies across areas from HVAC and energy efficiency; creating better hygiene in lifts and bathrooms and using sensors and smart carparks; to Wi-Fi and building networks, security and more.

Panellists include:Moderated by:
If you'd like more of this type of content delivered straight to your inbox, Enter your information below to subscribe to our fortnightly newsletter.