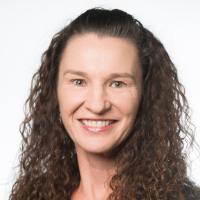 Distinguished Architect, Cisco
Vanessa Sulikowski is a Distinguished Architect and has been working in the ICT industry for over 30 years. Vanessa joined Cisco in 2000 and pursued a specialisation in Collaboration Technology and is considered a Trusted Advisor for many organisations across the Asia Pacific region. Vanessa is an evangelist for workforce experience and workplace transformation working with customers on their transformation projects as well as presenting at Workplace and Technology focused events WorkTech, Flexible Working, Digital Workplace Summit, Future WorkTech, CoreNet and Real Property. This focus now including cognitive interactions through AI technology. Vanessa has presented at Cisco Live internationally and she was inducted into the Distinguished Speaker Hall of Fame. She has also presented at many other industry events such as Microsoft TechEd, JuiceIT, IBM Think, Wainhouse Summit, QuestNet, and Imagine. Vanessa holds a Bachelor of Computer Science (Hons) degree from the University of Newcastle and has achieved Cisco Certified Internetworking Expert (CCIE) Voice.
Takes part in
16:00 - 16:30

Examining how technology can enable an Intelligent Workplace

It is anticipated the 2021 post pandemic workplace will be very different, both the space itself and the way people use it, is evolving rapidly. Safety, security and wellness has become more important than ever and connecting teams that are now hybrid working across different workspaces is a key priority. AI and technology innovations can enable enhanced automated experiences, contactless interactions options, intelligent notifications, and workspace real-time visibility for more effective workspace usage. This session will explore how technology can help you enable a more intelligent workplace to cater for the evolving ways of working.

Examining how a tech infused office can be used to attract tenants and employees
How can different stakeholders work together to identify and implement the right technologies?
Understanding what solutions are out there and what challenges they address?
What is needed to implement these solutions and ultimately who bears the cost?
If you'd like more of this type of content delivered straight to your inbox, Enter your information below to subscribe to our fortnightly newsletter.