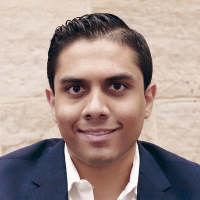 Co-Founder, Mall of the Future & Investment Manager, Panthera Group
Takes part in
-

Panel discussion - From Smart Buildings to sustainable, intelligent portfolios: Overcoming common challenges to create an effective Proptech Deployment Strategy

The majority of problems that arise when putting together a Smart Building occur in the initial planning stage of the build. In this session we examine how to overcome these challenges and shift to make the industry more successful; and how can Proptech assist businesses to be more agile across the procurement, supply chain, construction and ongoing facilities management?

Applying tech during the build of a Smart Commercial Building

Examining how can builders' price correctly if a tech is not chosen at the start of a project?

Examining the role of Data and how it can be applied to all aspects of tech deployment and beyond

Assessing what you can do when your tech can become outdated so quickly?

How data, ESG standards and a holistic platform approach can enable and optimise real estate portfolio management

What are the other considerations to make when identifying and applying a new technology across your portfolio?

Panellists include:Moderated by:
If you'd like more of this type of content delivered straight to your inbox, Enter your information below to subscribe to our fortnightly newsletter.