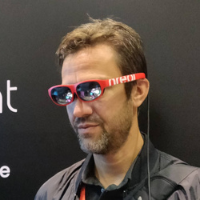 CEO and Founder, Mixed Reality I/O - Austria
Takes part in
13:15 - 14:00

Panel discussion – Building the smart workplace of the future by merging digital technology with human wellbeing and performance needs

Human wellbeing has been an issue with remote work due to its social isolation. To date, technology solutions have not specifically targeted this area. Science fiction imagines how emotionally intelligent operating systems can help people who feel isolated. Will our future workplace be managed by AIs in a virtual space?

Panellists include:Moderated by:
If you'd like more of this type of content delivered straight to your inbox, Enter your information below to subscribe to our fortnightly newsletter.