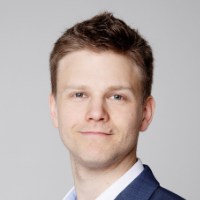 Strategic Projects Director, Hickory
Mathew joined Hickory in 2018 to manage lease, finance and JV negotiations as well as research and preparation of development feasibility analyses for new projects in the pipeline. His role has evolved further and now he also assists with bid and tender submissions and unique strategic projects including establishing the set-up of new business ventures such as Hickory's venture into the co-working space. Operationally, Mathew has been instrumental with improving efficiencies of office practices and introducing new streamlined ways of working. During his time at CBD Development Group, he had direct input into the business' operational and management direction which led to growth in revenue from $30m to $430m. He managed the full lifecycle of projects in the mixed-use, commercial, residential and retail space. He successfullly managed the delivery of projects with a combined value of nearly $270m.
Takes part in
15:40 - 16:10

Market Lane Melbourne – The 'non office' office

Combining sustainability as the key driver, but with the 'user experience' as the core focus
Looking at the vision and objectives, what was involved in the design and build and what worked and why?
Looking at the evolution of prefab in construction and the drivers of its growing popularity
Looking at the bathrooms what factors were important such as:

Examining hygiene and the user experience
Beyond implementing touchless solutions – using data analytics to drive efficiencies
Assessing cleaning, maintenance and power usage through a sustainable lens
Extending the life of the fixtures

Mathew Foden, Strategic Projects Director, Hickory

Carl Gee, Marketing Manager – Smart Command, GWA Group
If you'd like more of this type of content delivered straight to your inbox, Enter your information below to subscribe to our fortnightly newsletter.