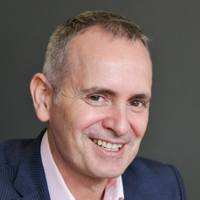 Chief Executive Officer, Australian Constructors Association (ACA)
Takes part in
09:05 - 09:25

Fireside chat - A productive debate about productivity – the paradox of low productivity in the face of rapid technological innovation

12:00 - 12:20

Fireside chat: Best for project outcomes – why collaboration delivers better outcomes

11:40 - 12:00

Advocacy to ideas – The mechanism to bring about change

At times of peak demand, commercial frameworks tend to be collaborative to attract more contractors to bid. Conversely, in tight markets, project owners will utilise frameworks that transfer the project risk to the contractor in the knowledge that the market will accept such risk to win work. This model is unsustainable. This session will examine how a more collaborative approach can be applied to better align the industry for all involved.
If you'd like more of this type of content delivered straight to your inbox, Enter your information below to subscribe to our fortnightly newsletter.