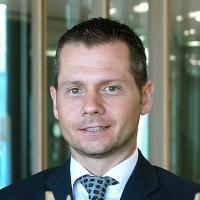 Head of Asia Pacific, GRESB
Takes part in
09:05 - 09:35

Chairperson's Opening Address: What's driving the need for Australian Real Estate companies to embrace responsible investment practices?

GRESB is the global ESG benchmark for Real Assets and in this session, we hear from their Head of APAC, Ruben Langbroek about the need for Australian real asset owners and managers to further embrace sustainable, responsible investments that generate positive outcomes. This session will look at existing and future drivers of responsible investment and ESG integration strategies that aim to accelerate the transition to resilient and sustainable real assets.

What are the current and future drivers for responsible investments in real estate?
What are the key outcomes investors and managers are seeking?
What are the leading practices for implementing effective ESG integration strategies?
If you'd like more of this type of content delivered straight to your inbox, Enter your information below to subscribe to our fortnightly newsletter.