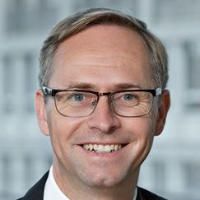 Chief Operating Officer, Zurich Insurance Company - Switzerland
Takes part in
16:45 - 17:30

International Locknote Panel: Examining the European approach to ESG and sustainability in real estate

In this session, we look to the leaders of Europe to see how they are incorporating ESG to drive the industry forward. How have European capital markets impacted the industry and what can Australian companies learn from them? In particular, we explore:

What is the European approach and how is the European Commission shaping the Green Deal?
What impact has Covid-19 had on the value chains and how does it influence the implementation of the Green Deal?
How does the sector sustain the biggest challenge – existing real estate – is it possible to be more ambitious than the 2050 targets?
How to balance the ESG needs of investors and tenants?
What is the impact of Green Bonds on the real estate sector?
How do you change the mindset change to make leaps reducing the total building footprint of the total lifecycle?

Panellists include:Moderated by:
If you'd like more of this type of content delivered straight to your inbox, Enter your information below to subscribe to our fortnightly newsletter.