It's 2022 – materials prices are rising each week, talent is as scarce as hen's teeth, and salaries have jumped 50% overnight!
The bolt from the blue that the world needed
Whilst the short term pain is real, the construction industry will endure and has been shocked into change that will provide far greater sustainability in the long term.
There are:
Innovations in construction are critical to achieving Net Zero, as the Built Environment accounts for a staggering 40% of global greenhouse gas emissions and 50% of energy consumption (World Economic Forum).
So why is procurement stuck in 1985?
Procurement on construction projects presents such a significant opportunity – after the initial estimate, it is the "second bite at the cherry" to materially impact and defend your profit margin. Strong procurement sets projects up for success.
Whilst the construction industry has adopted technology for finance, document control, estimating, programming, safety, progress payments, QA and site, procurement has been overlooked for far too long.
For many builders, the last meaningful innovation in subcontractor procurement came in 1985, when Microsoft first released Excel spreadsheets!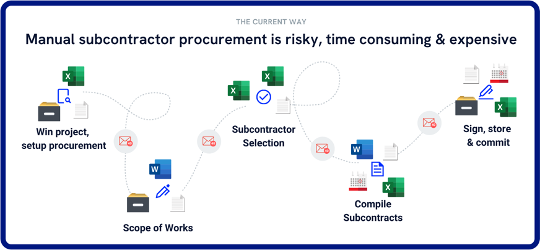 Image: Typical procurement process includes Procurement Schedule (Excel), Shared Project Folders, Scope of Works template, Scope content library/examples, Project Management software (eg: Aconex/Procore), Tender software, Price Comparison (Excel), Authority To Let (Excel), ATL Attachments (PDF), Tender Interview (Word), Subcontracts (Word), PDF compiler, Hard Copy or electronic Signatures.
The future of procurement is now!
Transforming procurement is low hanging fruit for an industry run by spreadsheets. Removing the admin, unlocks staff to focus on improving commercial outcomes and project profitability.
Example outcomes achieved in 2022 after adopting digitising procurement:
Kapitol Group – 15 hours saved per trade; $1 million+ in estimated benefit within 12 months
2Construct – 50%+ administrative time savings; 100% staff uptake & endorsement
Balmain&Co – 80% time savings drafting contracts; 10 weeks time to scale enterprise-wide
Jeremy Brown, Contracts Manager, Kapitol Group:
"Over my last 10 years in Tier 1 construction I have been crying out for something like ProcurePro – it just saves so much time wasted on process. The old way of procuring was like riding a horse, compared to now it's like driving a Tesla."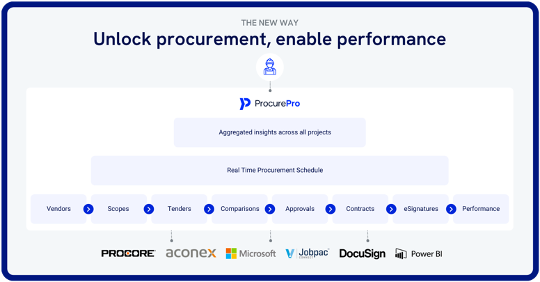 Image: Digital procurement enables aggregated data analysis; assessing risk & opportunities in real time; embedded lead time management; Vendor database, history & workload; centralised scope of works library; compare, collaborate & approve vendors; contract generation & eSignature; traceability, governance & record keeping; Construction-Tech systems integrations.
Want to learn more?
Find out why main contractors such as Roberts Co, Hutchinson Builders and Kapitol Group are partnering with ProcurePro, at https://procurepro.co
Alastair Blenkin will be discussing the Future of Procurement on stage at 12:30pm on Thursday the 5th of May at the Future of Construction Summit.
Future of Construction Summit
ProcurePro is a ConTech Innovation Sponsor at the Future of Construction Summit taking place on 4-5 May 2022. Following the success of the Future of Construction Summit in 2021, we're pleased to partner with the Australian Constructors Association to deliver an expanded format in 2022. Combining a two-day conference with the annual Australian Construction Achievement Award, the Future of Construction Summit will bring together senior industry leaders to share ideas, learn and network.