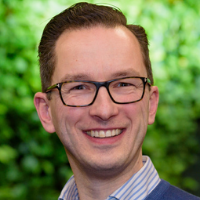 Founder & Quartermaster, PropTech for Good
Takes part in
16:15 - 16:45

Society 5.0 – How sustainable development targets and property technology are coming together to auger in a new and better age

In this session, we will hear from Menno Lammers – founder of PropTech for Good – how the UN Sustainable development Goals will guide the future of the sector and our society. Menno will answer questions such as:

Examining what is Society 5.0 and what role do real estate and technology play?
Understanding what is necessary to make a change and how ESG will help?
Which practical examples give direction to Society 5.0?
Why does the industry need bold missions?

16:20 - 17:00

Sustainability, Net Zero & Technology – Investment for Good: Examining what's NEXT in sustainability and climatech

In this session, we hear from leading European Proptech network leaders what is next in Sustainability in Europe. What lessons have been learnt, what are they working on now, and what challenges and opportunities do they see emerging in Europe in terms of ecosystem, market, and funding.

Panellists include:Moderated by:
If you'd like more of this type of content delivered straight to your inbox, Enter your information below to subscribe to our fortnightly newsletter.