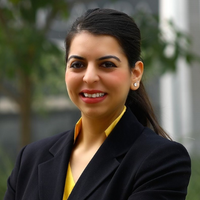 General Manager – Innovations, Hines India
Takes part in
14:15 - 14:45

International Keynote Fireside Chat II: Proptech Innovation: Uncovering the secrets to seeding greatness in Proptechs globally

Divya Pall is Head of Innovation for Hines India and part of the global Innovation Team. Divya is tasked with identifying, developing and scaling Proptechs for Hines and their portfolio of property assets valued in excess of US$160 Billion across 240 cities in 27 countries globally. In the past year Divya has evaluated over 100 Proptechs, piloted 18 and rolled out 6 into their portfolio. In this session we examine what they look for in a Proptech, how they identify, scale and incorporate them across their mega portfolio of real estate assets globally. 

How Hines identifies and develops the highest potential, biggest impact start-ups

What are the most promising tech plays and sectors today?

Where are Hines looking for start-ups globally?

How will tech transform all real estate sectors?

What's NEXT for the property industry and Proptechs globally?

Guest include:

09:30 - 10:10

Tech Transformation Leaders Panel: Australia Under the Spotlight - How are Australian building owners, operators and developers finding, adopting and investing in Proptech?

In this session we look at how Proptech and Contech use has grown exponentially in Australia and why CIOs now need Proptech more than ever. This session will examine:

The state of collaboration and innovation in the Australian Proptech sector
Australian market dynamics in focus: growth, capital investment, and innovation in real estate and the drive to enhance sustainability
What technologies are on the rise across the different asset sectors in Australia and across the broader APAC region?

What

's 

needed to drive adoption of 

Prop

t

ech

within the built world to the next level?

Panellists include:Moderated by:
If you'd like more of this type of content delivered straight to your inbox, Enter your information below to subscribe to our fortnightly newsletter.