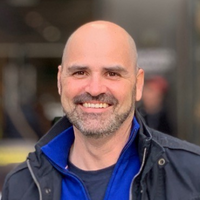 Head of Business Technology, Optus
Takes part in
10:10 - 10:35

Examining how 5G will be a game changer for Commercial Real Estate & Beyond

In this session, we hear from Ross O'Toole, Head of Business Technology on how Optus is providing carriage to disrupt and digitalise commercial real estate. How by connecting people, devices and building IOT will transform the built world and PropTechs across APAC. In his presentation Ross will examine: 

Examining the real 5G opportunity for landlords, agencies and tenants; how to realise them and what challenges need to be overcome over the coming years?

 

Understanding how IOT will allow you to run your building more efficiently and enhance sustainability while improving your tenant's user experience 

 

What is actually being disrupted and what are the benefits these changes will provide in terms of data and analytics and the insights gleaned into tenant experience and usage?

 

How will this information impact Recoverable Outgoings across digitalised buildings?

 

Examining broader examples from retail to Optus Stadium and to what is actually happening abroad and what can Australian landlords and building operators can learn from their experience?

 
If you'd like more of this type of content delivered straight to your inbox, Enter your information below to subscribe to our fortnightly newsletter.