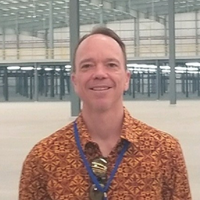 Dr. Michael de Jong-Douglas
Senior Managing Director, ESR Singapore
Takes part in
15:45 - 16:20

Sustainability Fireside Chat - Industrial Grade ESG - How design and technology are the keys to Industrial Real Estate sustainability

The global real estate sector is the largest contributor to the global climate crisis. In this session we examine why this culpability is driving big changes in how architects, builders, owners, operators and tenants are all working to tread more lightly on the earth and instil sustainable principles across the industrial landscape. In this session, we examine the technologies that are enabling the move towards sustainability and the ESG principles making it possible: 

How is climate change impacting how we approach industrial portfolios?

 

Green & circular – using solar panels on the roofs of warehouses and other renewable energy sources to achieve carbon neutrality

 

What other design and technology methods can be used to reduce energy and water consumption and drive bottom-line impact

 

What role does procurement, social impact, diversity & inclusion play in industrial construction and maintenance?

 

Guest include:
If you'd like more of this type of content delivered straight to your inbox, Enter your information below to subscribe to our fortnightly newsletter.