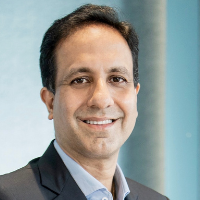 Founder & Chief Executive Officer, Smarten Spaces
An industry veteran with 26 years of experience, he has held key leadership roles in prominent companies like AT&T, Lucent, Avaya, Jabra, and Cisco. He was President of Cisco India and SAARC from 2014 to 2017. Under him, Cisco significantly grew to over a billion USD. Prior to this, he was the Managing Director for Collaboration with Cisco, President for APJC for Jabra, and Country President of Avaya in Korea and China for a period of 12 years. As the Technical Director for key solutions across APJC for AT&T Lucent and Avaya, he spent three years in research and development (R&D) and built India's first public voice mail system. Dinesh is currently a member of Forbes Technology Council, an exclusive platform for senior-level technology executives and a member on the CII National Committee on IT & ITES for the year 2020-2021. Dinesh has also been on the NASSCOM Executive Council and is currently the Learning Chair of YPO Bangalore Chapter, a platform that enables networking with C-level executives. He has a Bachelor of Engineering (BE) degree in computers from Pune University and an MBA from SUNY Buffalo.
Takes part in
12:35 - 13:20

Panel Discussion: Examining space utilisation, workplace design and technological innovation in the Future of Office Space

Workplace design and innovation now more than ever plays a key role in enabling employees to return to work safely. How companies adopt new tools and approaches will determine not only the initial success in bringing their staff back to work, but also their ability to keep them there beyond the short term. In this session we will explore:

Examining healthy buildings and tenant experience in the "New Normal"
Exploring issues of safety and what this means for all parties?
Assessing how best to cater for the Mental Health of your employees
Reconfiguring workspace design from a physical perspective
The role of technology such as sensors, parking, end of trip facilities and meeting rooms
Creating flexibility with connectivity and data for re-occupancy

Panellists include:Moderated by:
If you'd like more of this type of content delivered straight to your inbox, Enter your information below to subscribe to our fortnightly newsletter.