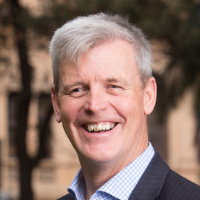 Make It Wood Campaign Manager, Planet Ark Environmental Foundation
David studied Architecture and Building Engineering in the UK and also has an MBA from MGSM and a Master of Marketing from UNSW. He manages Planet Ark's Make It Wood campaign, which aims to increase the use of responsibly sourced wood as a building material. Prior to joining Planet Ark David was CEO of a major Sydney-based building products manufacturer, and is currently a judge on the NSW Green Globe Awards.
Takes part in
14:30 - 15:10

Panel Discussion: Examining the benefits of building with timber to enhance wellbeing

Based on the significant benefits of timber in office spaces, Atlassian decided to use it for their Central Place Headquarters, like other developers are doing.In this session we examine the reasons for the increased popularity of this building material from a cost and sustainability aspect.

Panellists include:Moderated by:
If you'd like more of this type of content delivered straight to your inbox, Enter your information below to subscribe to our fortnightly newsletter.