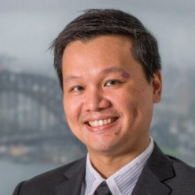 General Manager - Sustainability, Real Estate, AMP Capital
Darren Teoh is the General Manager, Sustainability of AMP Capital Investor Ltd's Real Estate business. Darren is a real estate and sustainability professional with a broad range of experience gained from 14+ years in the built environment. Before joining AMP Capital, Darren worked at a few engineering consultancies in Malaysia and Australia as ESD consultant involved in residential, commercial building, airport, defence and university projects. Darren is always looking for smart ways to improve building performances which led him to implement one of the first ice storage system in Malaysia in 2005 and having a solar-battery system in the multi award winning University of Queensland Global Change Institute in 2013. In his current role, Darren is responsible in developing and executing AMP Capital Real Estate's 2030 Sustainability Strategy targets with a strong focus on achieving AMP Capital Real Estate's Net Zero Carbon targets. Darren holds a MBA from the University of Queensland and a Mechanical Engineering Honours Degree. He is also currently the Co-Chair of the Property Council of Australia's NSW Asset Management and Sustainable Development Committee, Chairperson of one of the Green Building Council of Australia's Expert Reference Panel and was a member of the PCA Office Building Quality Guide Steering Committee.
Takes part in
11:10 - 11:50

MEET THE MANAGERS: Global investor perspectives on ESG in Real Estate

Pandemic- and climate-related disruption, geopolitical unrest, and a growing recognition of social inequity has prompted investors to adopt a more robust approach to sustainability related risks. Major institutions are now deploying capital into buildings with the highest levels of green credentials, with these assets starting to separate themselves from the pack. This trend is set to gather pace as the world's top sovereign wealth and super funds have listed ESG as a key driver in their decision making. This panel features speakers from across the built environment to review the growing impact of ESG across Commercial, Residential, Industrial, Health and Retail Funds.

Greenium: Do Green Buildings equal healthier profits? Reviewing the impact on asset values and rental yields
Why positioning assets for net-zero is paramount to future success
What role can increased bifurcation play in regenerating stranded assets?

Panellists include:Moderated by:

13:30 - 14:20

Panel discussion: Looking at how ESG is driving greater sustainability across commercial real estate

Before Covid changed the landscape, ESG and the need for greater sustainability was coming of age. Today, tenants have taken up the baton, making it even more important for developers and landlords to design, build and operate with ESG at the forefront as the push towards Net-Zero gathers pace. 

Assessing the impact of ESG on Commercial Real Estate and how it has evolved over the last 24 months?
How is technology playing a key role in addressing sustainability issues and enabling commercial buildings to tread more lightly on the planet.
Examining the ethical application of technology and what this means in terms of office space.
Should we be assessing remote employee locations for work related ESG impact?
From construction to faciliites management – what can each player in the CRE ecosystem do better to drive sustainable outcomes?
How much of a factor is ESG when tenants are selecting office space?

Panellists include:Moderated by:

11:00 - 11:30

The electrification of buildings

Most buildings built today will still be operating in 2050 when countries like Australia are expected to reach net zero emissions under the Paris Climate Agreement. In Australia, the built environment accounts for almost a quarter of the country's emissions. Deep cuts in national emissions can be achieved by promoting energy efficiency, moving to a zero-carbon electricity system, switching from direct use of fossil fuels to decarbonised electricity in buildings. In this session we look at the move to provide infrastructure to support the electrification of buildings; identify the opportunity, the challenges and potential of the electrification of building through smart building systems.

Examining the considerations designers and developers need to make when looking to electrify a modern smart building
What are the benefits of electrification such as solar power versus generators and how can buildings best store the energy created for when it's actually needed?
How can we economise the cost of electric car stations and battery storage?
Examining the potential negative consequences of electrification such as the impact on the grid
If you'd like more of this type of content delivered straight to your inbox, Enter your information below to subscribe to our fortnightly newsletter.