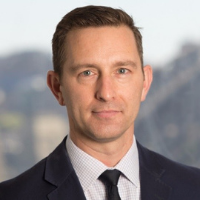 Head of Sustainability & Platform Operations, Real Estate - AMP Capital
Chris Nunn is Head of Sustainability and Platform Operations at AMP Capital Real Estate. The Sustainability Team consists of 7 staff, and the Platform Operations team, consists of AMP Capital Real Estate's Research, Governance, Investor Relations, Health & Safety, Asset Operations, Asset Technology and Procurement functions. AMP Capital has a real estate portfolio valued at approximately A$28 billion, consisting of approximately 100 shopping centres, offices and industrial assets located mainly in Australia and NZ. Chris has 20 years' experience in sustainability with expertise in environmental law, sustainability consultancy, green building design and operations, sustainability rating systems, corporate sustainability strategy and reporting. Chris also volunteers as the Chair of the Board of the Australian Passive House Association.
Takes part in
11:00 - 11:45

Opening Panel Discussion: The ESG era: How the transition from "Green" to ESG is transforming the real estate industry

The popularity of ESG has grown significantly. ESG stimulates sustainable investment and ensures that objectives are measured and benchmarked. In this session we examine:

Examining how real estate companies can respond and develop a roadmap to move the industry towards net zero carbon emissions and greater sustainability in building construction and maintenance?
Creating guiding sustainability principles for the real estate sector to create healthier, resilient, future-proof places?
Working with National, State and Local Governments to shape policy and enable industry implementation to drive down water & energy consumption, landfill, waste and building emissions reduction
Assessing the role data, IOT and the cloud play in making the ESG transformation towards greater sustainability in water and energy
Looking at how technology and sustainable materials are contributing to the long-term solution and the need for more resilient real estate
The social value of the built environment; what does diversity and inclusion mean in real estate and how can this be more effectively measured?

Panellists include:Moderated by:
If you'd like more of this type of content delivered straight to your inbox, Enter your information below to subscribe to our fortnightly newsletter.