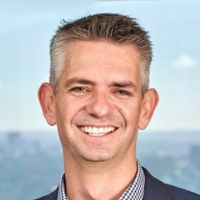 Head of Country - Australia & New Zealand, BrainBox AI
Ben Gill is the co-founder and CEO of ImpactAI, the exclusive agent and distributor of BrainBox AI in Australia and New Zealand. He has held positions in finance, marketing, asset management, and technology at two of Australia's leading real estate businesses: Lendlease and The GPT Group. Having held senior roles in Sydney, Melbourne, and Darwin, Ben has a proven track record in growing income and asset values for commercial properties across Australia. Ben is a Company Director, CPA, holds an MBA from Curtin University and is a Licensed Real Estate Agent.
Takes part in
09:50 - 10:30

Panel Discussion: Identifying and implementing new technologies for smart buildings that create people focused outcomes

Updating existing assets to make them smarter
Advancing collaboration between technology and facilities management teams to optimise technology implementation.
Identifying the right technologies for your asset and implementing them efficiently by involving all members of the team
Harnessing technology for people focused outcomes by using long-term datasets – how do we use and harness the data?
Assessing the considerations when investing in data-driven buildings to achieve better experiences for everyone- Who can access what data?
– Who owns what data?
– Who manages the data?
– How do we use and harness the data?
– Re-examining the need for data privacy and cybersecurity

Panellists include:Moderated by:
If you'd like more of this type of content delivered straight to your inbox, Enter your information below to subscribe to our fortnightly newsletter.