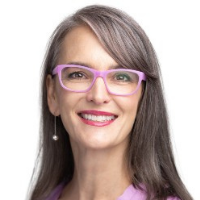 Executive Managing Director, Property Management, CBRE
Takes part in
17:00 - 17:30

International locknote address - Enhancing the performance of a A$75Billion real estate portfolio through community focused innovation

At PATRIZIA, they pride themselves on their forward-thinking, responsible and sustainable approach to commercial building investment. For almost 40 years these attributes have allowed them to deliver long-term, value that continues to grow their A$75Billion real estate portfolio for their stakeholders, clients, and tenants. In this session, we hear from their Chief Technology & Innovation Officer Dr, Manuel Käsbauer on the megatrends shaping the Future of Commercial Real Estate and how innovation is enhancing their portfolio and ability to develop meaningful communities across their commercial portfolio.

Guest include:

14:00 - 14:40

Panel Discussion - Looking at how ESG is driving greater sustainability across commercial real estate

Before Covid changed the landscape, ESG and the need for greater sustainability was coming of age. Today, tenants have taken up the baton, making it even more important for developers and landlords to design, build and operate with ESG at the forefront as the push towards Net-Zero gathers pace.  

Assessing the impact of ESG on Commercial Real Estate and how it has evolved over the last 24 months?

 

How is technology playing a key role in addressing sustainability issues and enabling commercial buildings to tread more lightly on the planet?

Examining the ethical application of technology and what this means in terms of office space.

 

From construction to facilities management – what can each player in the CRE ecosystem do better to drive sustainable outcomes?

 

How much of a factor is ESG when tenants are selecting office space?

 

Panellists include:Moderated by:

16:10 - 16:30

Understanding the role of technologies such as IAQ, AI, wearables, visitor management and contactless in enabling the return to work, and creating offices that are safe, healthy, productive and sustainable.

15:20 - 15:40

Interactive round table sessions

These quickfire moderated roundtable sessions enable delegates to break up into small focus groups of 20 to deep dive into topics of specific interest. 

Roundtable 1: Office design for a hybrid world

 

Roundtable 2: Tenant experience – How to track and measure the right data to improve tenant relationships

 

Roundtable 3: Leveraging big data and analytics to assess portfolio performance and investment decisions

 

Roundtable 4: Creating healthy sustainable offices through technology

 

Roundtable 5: Smart buildings: Overcoming technology deployment obstacles

 

14:40 - 15:20

Voice of the tenant panel - Looking at how tenant demands across Asia are driving landlords to adopt innovative approaches to the design and fit out of their offices

One way to attract or to keep wavering tenants secure is by investment into the buildings themselves. Tenants want greater amenities and end of trip facilities, as well as building connectivity that increases organisational culture, productivity as well as promoting staff well-be
ing and environmental sustainability and overall air quality. These areas and more will be discussed in this intimate panel discussion led by one of the region's leading experts in Occupier Services and his tenants.

What are the views of tenants across APAC and what lessons can be applied for tenants in Australia?
Examining what trends and themes are driving Best Practice from an APAC perspective?
Looking at how occupiers are becoming more vocal in what they want from landlords and how agencies are working to bring them together
Understanding what the future may look like and how it is being shaped to meet evolving demands for spaces that provide wellbeing, functionality, safety and in a more sustainable way

Panellists include:Moderated by:

12:35 - 13:00

How is office space being reimagined for a new era of work

In the past three decades, a series of quiet revolutions in design have changed the way offices are used, erasing former hierarchies of walls and cubicles and incorporating workplace methodologies from the technology industry into team-based, open-plan layouts. At the same time, digital tools such as e-mail, Excel, Google Docs, video conferencing, virtual whiteboarding, and chat channels like Slack have made a worker's presence in those offices less essential. The pandemic has collapsed these divergent trends into an existential question: What's an office for? Is it a place for newbies to learn from experienced colleagues? A way for bosses to oversee shirkers? A platform for collaboration? A source of friends and social life? A respite from the family? A reason to leave the house? It turns out that work, which is what the office was supposed to be for, is possible to do from somewhere else. 

In this presentation, we'll hear how forward-thinking companies are figuring out how to balance what appears to be a lasting shift toward remote work with the value of the physical workplace. 

11:50 - 12:30

Meet the managers - Capital markets and investor perspectives on Commercial Real Estate

The future for office commercial space looks increasingly uncertain, as more and more people work from home and some employers consider making it a permanent arrangement. This could significantly affect office real estate investment trusts, or REITs, at least in the short to medium term, according to analysts. However, some are still somewhat positive on the longer-term outlook. 

Back by popular demand, we invite some of Australia's leading commercial fund managers to lift the bonnet and crystal ball gaze into the trends of commercial real estate from the viewpoint of investors and the capital markets.  

Examining the short, medium and long term prospects for office space. What are the current occupancy rates, impacts on leases, price per sqm and yields etc?

 

What are the view of REITS and fund managers regarding office investment returns? Is there evidence of a flight to quality in the office market and a longer term structural shift to certain types of office assets, and what sort of assets are in demand?

 

Assessing if the 'risk adverse' money is moving away from office and into other sectors such as industrial & logistics as investors seek safer, more 'risk adjusted' returns?

 

Reviewing what lenders are doing and thinking in the face of the WFH-driven uncertainty? Also, what can landlords do to influence the outcome of the WFH versus in-office contest? Lastly, what has happened to LVRs and underwriting?

 

Examining how are office landlords are adjusting to climate change pressures? Building operations are a major source of emissions and as capital allocators look for sustainable investments, does the property industry have any choice but to de-carbonize?

 

Panellists include:Moderated by:

11:30 - 11:55

Research report - Commercial property under the spotlight - one year on, what has changed?

Examining current office performance/analysis

 

Occupancy rates and leasing demand 

 

Stock levels and how demand is evolving in the new environment

 

Changing tenant needs/expectations of hybrid workplace

 

Contrasting Grade A with Grade B properties and the opportunities created

 

10:20 - 10:40

Unlocking the power of data & analytics to optimise the performance of office portfolio's

In this session you'll learn how CRE analytics can be used to produce valuable insights to investors, landlords, and property teams about office portfolios. 

09:45 - 10:25

Plenary Panel Discussion - Examining the New NORMAL and what it means for office demand, design and the role of technology as we push to revitalise CBDs

Covid has caused massive disruption to CBDs and Commercial Real Estate. Once thriving cities, full of office buildings housing employees have been forced into lockdown with significant economic impact. What is not known is how permanent this impact will be with many companies advocating for a push back to pre-covid workplace arrangements, and others adopting hybrid working policies. In this session we gather leading industry professionals to talk about the past, present and the future of office space such as: 

Has the role of the office changed forever and what are the implications of hybrid work on city CBDs and the national economy? 

 

What role are tenants playing in defining the new office landscape?

 

What can landlords do to enhance their design, safety, air quality, wellbeing and more to attract and retain tenants?

 

Examining the role technology plays in making office spaces clean, healthy, attractive and more sustainable.

 

Looking at retail from a commercial building perspective; how can we support retailers in order for them to support the tenants of the buildings they occupy?

 

What does all of this mean for office landlords, investors and agencies and how can they work together to enhance and revitalise the CBD?

 

Panellists include:Moderated by:

If you'd like more of this type of content delivered straight to your inbox, Enter your information below to subscribe to our fortnightly newsletter.